So very suitable for this weather and fairly quick to prep & cook. Colourful and delicious, and yes, quite healthy. Lentils and sweet potatoes are both gluten-free as well.
If you prefer soups instead of pasta sauces, just add more bouillon or water and serve with a little sour cream and lightly toasted French baguette or ciabatta.  Ciabatta, by the way, was created in 1982 by a baker in Verona, Veneto, Italy, in response to the popularity of French baguettes.
Serves 4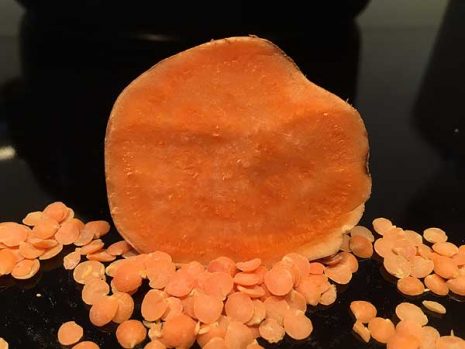 Ingredients
Olive oil – 2 tbsp
Onion – 1 medium, chopped
Sweet potato – 1 medium, chopped into small pieces
Cumin seed – 1 tsp
Garlic – 1 tsp
Diced tomatoes – large can of 796 ml or 28 fl oz.
Oregano – 3/4 tsp
Basil – ¾ tsp
Sumac – 3/4 tsp
Cocoa powder – ¾ tsp
Sugar – 1 flat tsp
Salt & pepper – to taste
Bovril – powder – 2 small packets (5g each) or ready-made Bouillon 1-1½ cups
Lentils – red – 1 ½ cups
Pearl barley – 1/2 cup
Spinach (fresh or frozen) – to taste
Water
Parmesan &/or a choice of grated chesses
Method:
Heat the olive oil in a heavy bottom, large saucepan, on med-high. Add the chopped onions and cook till softened and turning slightly brown – 3-5 minutes. Add cumin seed, garlic and chopped sweet potato and cook for 2-3 minutes.
Add the lentils & pearl parley and stir till well coated with oil. Once coated, add the can of diced tomatoes including the liquid. Stir.
While the lentil/tomato mixture is coming to a boil, add in the oregano, basil, sumac, cocoa powder, sugar and pepper. Leave the addition of salt to the end.
Add in the Bovril (powdered bouillon). Mix well.
If using powdered bouillon, add 1-1½ cups of water. If using ready-made bouillon, add that but add no water. Mix. Bring the mixture to a boil.
If using frozen spinach, add it now then reduce the heat to low and cover. Cook for approx. 25-30 minutes till the vegies & lentils are quite tender.
If using fresh spinach, add it just before serving so that it wilts but does not break apart.
Serve on the pasta of your choice sprinkled with Parmesan
Notes:
Adjust salt based on the type of broth or bouillon being used.
Good with rice, too.
Sumac comes from the berries of a wild bush that grows wild in all Mediterranean areas, especially in Sicily and southern Italy, and parts of the Middle East, notably Iran. It is an essential ingredient in Arabic cooking, being preferred to lemon for sourness and astringency.
In N. America broth, and bouillonare sold in stores and are very different things despite meaning exactly the same thing. Bouillon, French for broth, is a dehydrated compressed cube or granular powder that can be rehydrated into a broth. Broth is a flavored liquid made through a cooking process.
Lentils are low in calories, rich in iron and folate and an excellent source of protein.
Lentils are legumes and add essential vitamins, minerals, and fiber to the diet, and they provide protein and sustenance that can replace meat in meals
Add sweet potatoes to your meal plan for a vitamin and fiber rich, gluten-free natural source of carbohydrates.