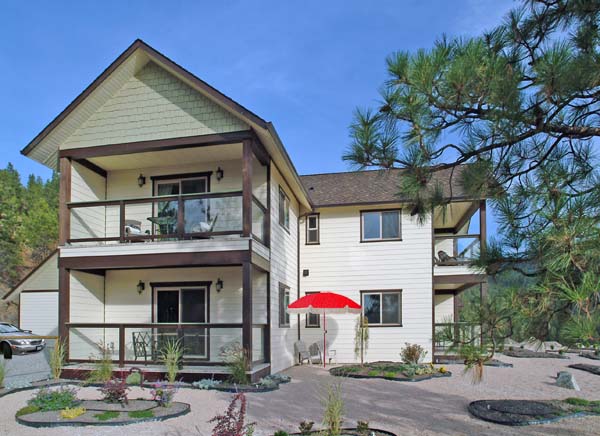 Forgotten Hill Bed & Breakfast's guest rooms are located in a purpose-built L-shaped wing on the west side of the Innkeeper's house, and connected by the Lobby area and the Courtyard.
At Forgotten Hill, all the guest rooms have views both to the south and the west. The ground  floor contains the Garden Room which offers views to the south through its patio doors. The view through the Lounge's patio doors faces west towards Summerland. The Lounge is available to all guests unless the Garden Suite is occupied.
The Elephant and Island Rooms are located upstairs, with the patio doors to the balcony of the Island Room facing south towards Penticton while the Elephant Room's deck faces west, towards Summerland.
All rooms offer large balconies or decks (18 x 6.5 ft.) which are equipped with comfortable seating and a table.
Breakfasts can be served on the balconies, in the rooms, or in the Courtyard.
Your Hosts are bilingual English & French.
---
Your Hosts:
Once upon a time, Benoît was a dashing young chemist in Quebec. But he craved a life of deliciousness, and so he made the long journey to the sunny Okanagan Valley, and into the field of wine-making. Happily, during the course of his wine-making studies, he encountered an adorable French-speaking lady by the name of Maya. She, too, had made the journey to the Okanagan, lured by the aromas of Pinot Gris, away from her homeland, where the rain fell, day after day, and her socks were never quite dry. As luck would have it, they shared more than just wine chemistry.
Together, they studied wine. They studied wine-making and viticulture, and planted a vineyard on Cottonwood Estate. She learned the ways of the sommelier, and he came to manage Noble Ridge Vineyard and Winery and be the winemaker there, as well as the winemaker for the new Forgotten Hill Wine Co.
Together, fueled by Maya's sumptuous cooking, they made delicious wine, and lovely little girls named Lili & Clara. They built a cozy house for their new family, and a Bed and Breakfast, so that visiting guests might glean as much joy from the area as they have.
One can only assume that Maya and Benoît went on to live happily ever after.
Benoît (Ben)
BA in Chemistry

Winemaking Certificate from Okanagan College

Assistant Winemaker at Wild Goose

Did a harvest in Marlborough, New Zealand in 2010

Vineyard Manager at Pentâge

Vineyard and Winery Manager at Noble Ridge Vineyard and Winery

Saint John's Ambulance Workplace First Aid

Vineyard Manager and Winemaker for Cottonwood Estate
Maya
BA in English Literature and Communications

Winemaking Certificate from Okanagan College

Viticulture Certificate from Okanagan College

Did a harvest in Marlborough, New Zealand in 2010

Did two harvests with Township 7

Worked in wine shops: Therapy, D'Angelo, Poplar Grove, plus VQA Wine Store

WSET Level 3 (Pass with Distinction) Equivalent to a Sommelier.

Saint John's Ambulance Workplace First Aid

Food Safe Level 1

Serving it Right
---