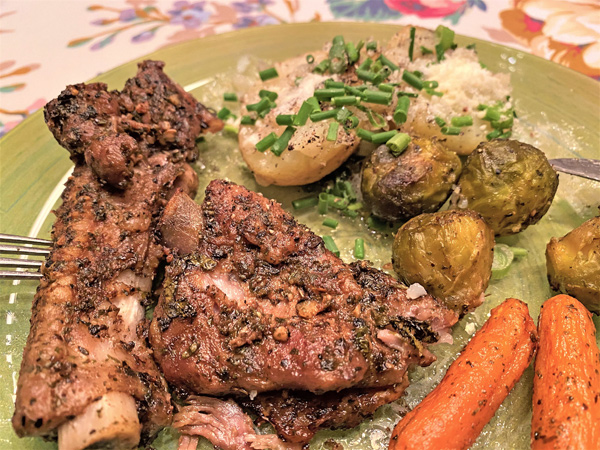 Yup, a craving for ribs can happen. There are a number of methods for cooking ribs. This is one, an easy one. Low and slow cooking make these oven baked ribs fall off the bone tender.
Method: prep
If present, remove the thin membrane covering the back of the ribs. Separate (cut apart) the ribs, then marinate for 24 hours in the following marinade.
For 2 lbs. of baby back ribs (membrane removed)
Marinade Ingredients:
1/2 c. oil
1/3 c. balsamic vinegar
1/2 tsp. ground mustard or 1 tsp Dijon
3/4 tsp. sugar
1 tsp.  salt
1/2 tsp. freshly ground black pepper
1 tbsp. chopped garlic
1 tbsp. dried parsley or cilantro
1/2 tsp. each dried oregano, mint & basil
1/2 tsp. powdered cumin
1/4 tsp. chili powder (to taste)
Marinade Instructions:
Mix all ingredients for the marinade together till well blended, either in a bowl or in a closed glass jar (shake till combined).
Place separated ribs in a large, flat, lipped dish and cover with marinade, making sure that all sides are covered. Marinate for 24 hours, checking for continued full marinade coverage at least once in that time.
When ready to bake, heat oven to 300 degrees Fahrenheit
Cover the bottom of a baking tray with aluminum foil with enough length to turn up the ends so that the ribs can be completely covered. Place ribs, one at a time into the baking tray. Sprinkle some of the left-over marinade over the ribs.
Cover the ribs with aluminum foil, so that they are in a pocket.
Bake the ribs at a low temperature (300F) for 2 (to 3 hours), checking about 2 hours into baking time. Bake until they are tender, browned, falling off the bone and oh so ready to eat.
Serve with Roasted Potatoes, Brussels Sprouts & Baby Carrots, which may be cooked in the oven along with the ribs.
Suggestion for the Brussels Sprouts & Carrots
Roast with a touch of Balsamic & finished the Sprouts with sprinkled Parmesan
Suggestion for the roasted potatoes
serve with either sour cream & chopped green onions or butter & chopped green onions
the potatoes can be microwaved & then placed in the oven besides the ribs for the last 15-20 minutes of baking to crisp the skin a little.