At Forgotten Hill we are green all over, literally. Just look around at the thousands of trees that live on our 148-acre (60 hectare) property. Whether Ponderosa Pines, White Pines, Cottonwoods, Quaking Aspens, or White Birch, they all love it here, as do visitors to the property. There is no doubt, Forgotten Hill at Cottonwood Estate offers a magnificent environment and we want to encourage those that want to protect it by switching to EVs.
As of 2017 Forgotten Hill Bed & Breakfast is pleased to offer free electric vehicle charging to its guests, as well as visitors. Forgotten Hill now provides two Level 2 charging stations:
• A Clipper Creek Charger with a J1772 Connector offering a 40 Amp connection, or 7.68 kW (32 amp) continuous.
• A Tesla Destination Charger equipped with a 60 Amp connection, or 11.5 kW (48 amp) continuous.
Although both chargers are equipped with 7½ m (25') cables,  vehicles using the Clipper Creek charging station on the side of the house are asked to parallel park on the edge of the driveway, as close as possible to the charger, so as to not impede other vehicles.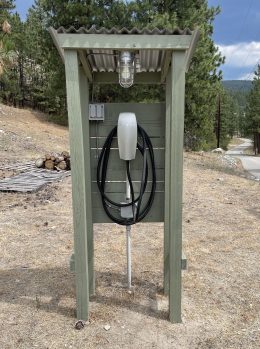 Tesla vehicles, on the other hand, have a separate parking area approximately some 24 m (80 ft) to the east of the Forgotten Hill buildings. The Tesla charging area is lit at night.
Cottonwood Estate, where Forgotten Hill is located is secure, and guest can rest assured that their vehicles will charge uninterrupted at night. Guests are welcome to leave their electric vehicles parked in these areas overnight.
Important:
We ask guests to replace the charger cords properly when their vehicle is charged. Cords should be coiled properly around the charger and not touch the ground. Likewise, the charger plugs should returned to their socket and guests are asked to make sure these click in and are secure. The reasons for this are simple. Cords laying on the ground can get damaged or become a chew toy for coyotes. Plugs left on the ground can be an electrical hazard.
---