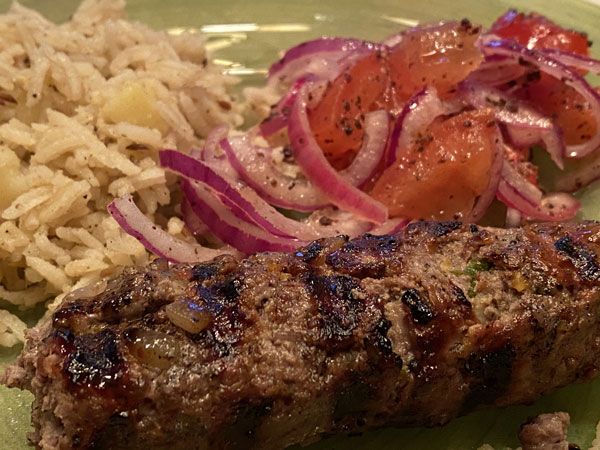 Kebabs of all kinds are common in many cuisines including Middle Eastern, Arab, Central Asian and South Asian. This one is named after the city of Adana in Turkey where it may have originated. In fact, kebabs are a signature Persian grilled meat dish.
Cooked kebabs are often served over warm flatbread and are often accompanied by roasted or fresh tomatoes, green or red peppers, sliced onions and parsley.
Ingredients
1 pound ground lamb or beef or a mixture.

1 small onion, minced

4 cloves garlic, minced

1 1/2 teaspoons ground cumin

1 1/2 teaspoons ground sumac

1/2 teaspoon salt

1/4 teaspoon ground black pepper

1/4 teaspoon red pepper flakes, or to taste

2 tablespoons ice water
Method
Gather the ingredients.

In a large bowl, combine the ground lamb/beef, minced onion and garlic, 1 teaspoon each of the ground cumin and sumac, salt, ground black pepper, red pepper flakes, and ice water.

Knead the mixture by hand until it turns tacky and starts sticking to the side of the bowl. Place in the refrigerator for about 30 minutes to chill.

Wet your hands and place a quarter of the lamb/beef mixture onto each skewer.

In a small bowl, combine the remaining 1/2 teaspoon each of ground cumin and sumac.

Grill the kebabs for approximately 8-12 minutes, until well charred on both sides. Sprinkle the spice mix over the kebabs while they are cooking.
Ideas for serving:
Serve the kebabs rolled up on warm pita or naan bread snuggled on top of lettuce leaves with sliced red onion, parsley, tomatoes, and chopped cucumbers.

With basmati rice and marinated red onions. Chopped tomatoes go well, too. Maybe even a tomato and avocado salad.
Marinated red onions
1 large sliced red onion

¼ cup lemon or lime juice

1-2 tsp Sumac

Salt & pepper to taste
Method
Sprinkle the sliced red onion with lemon or lime juice, enough to coat. Add the powdered sumac & salt & pepper to taste. Let sit & marinate for about 30 minutes.
---